Soupe a la Reine (Queen's Soup)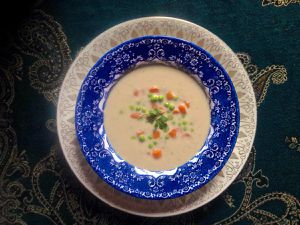 I absolutely love this soup, because it looks so fancy! It reminds me of the white soups they eat in the Jane Austen novels and period dramas and it actually makes me feel like a queen. This originally French soup was designed in the sixteenth century at the royal French court of Queen Marguerite de Valois (1) and hence received the name Queen's Soup(1)(2).
The soup in this post is a cream of chicken soup and I have to warn you: it is rather heavy. But nevertheless it is worth it, as it tastes absolutely delicious!
Ingredients for 5 servings:
1 liter of chicken stock
the meat of 2 chicken legs, well cooked (I used these to make my stock with, so this meat has been cooked for 3 hours. But of course shorter is possible too, as long as the meat is very soft and almost falls apart)
200 ml milk
200 ml cream
2 table spoons of flour
30 grams of butter
1 egg
200 gram of peas
350 grams of summer carrots
1. Melt the butter in the pot and add the flour to it. Stir until all the butter is taken up by the flour. 2. Then add the milk and keep stirring until a smooth and creamy roux is formed
3. Put the chicken meat in a blender and add a few spoons of stock to it. Blend until a smooth chicken puree is formed
4. Add the chicken puree to the roux and stir until a thick mixture is formed
5. Add the stock to this mixture and heat up while stirring until a boiling point is achieved. Boil for 20 minutes to let the ingredients bind together (otherwise your soup will taste a bit floury)
6. In the meantime cut the carrots up in small cubes and blanch them together with the peas in boiling water with a bit of salt for a very brief moment. Scoop the vegetables out and keep them separate.
7. Split the egg and add the yolk together with the cream together in a bowl. Stir well
8. After the soup is done, take the pot off the stove and add a few spoons of soup to the cream mixture.
9. Add the mixture back your soup, stirr well and your soup is ready to be served! Garnish it with the blanched vegetables. Bon apetit!