Old English Cream of Lemon Soup
Anglophile
ˈaŋɡlə(ʊ)fʌɪl/

'a person who is fond of or greatly admires England or Britain.'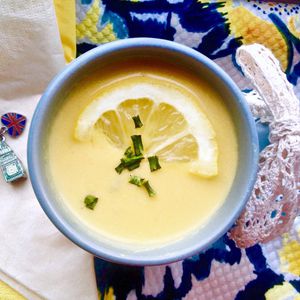 A term that describes me pretty well, for as long as I can remember I have always felt a strong affection for England and Great Britain. I do not know whether this refers to my peculiar habit of drinking more tea than the average Englishman, my massive appetite in the morning and need for big breakfasts, my addiction to every BBC drama on television or the fact that I know more about English history that that of my home country. But regardless of what has caused my affection, it has certainly been the main reason for my decision to actually move to England at the beginning of this year.
Since the last post before my moving was a Traditional Dutch Split Pea Soup, I thought it would be perfectly appropriate to celebrate my arrival to my new home country with a traditional English soup. However, I was just so busy settling in that I completely forgot. Nevertheless, I did look into some old recipes, and in particular this Cream of Lemon Soup had sparked my interest from the beginning. Nevertheless, I had been feeling slightly hesistant towards making this soup until now, and I do not know why exactly. Perhaps it was my inner perfectionist being frightened of how it would turn out, or my association of lemon with summer and I preferred to wait. Either way, I am very glad I eventually found the courage to make it! Especially now the weather is getting warmer, this soup feels like a lovely refreshment and I must admit it was absolutely worth the effort and waiting!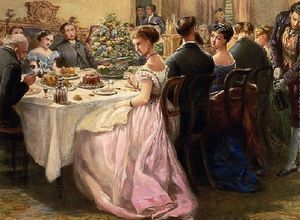 The history of this soup goes back a long way, to the Victorian times where England had a large Empire of colonies all over the world and import products from these colonies were considered exotic and expensive. Citrus fruits were one of these exotic products and therefore only consumed by those wealthy enough to afford them. The upper class and nobility used lemons to give some extra flavour to dishes with chicken and oranges to give extra flavour to dishes with duck. Fortunately today, you could just buy them at your local supermarket, which means that even a poor student such as myself can afford to make this incredibly fancy soup and feel like a lady in a Victorian costume drama (but perhaps with a less restraining corset).
Ingredients for 5 servings:
1 liter of chicken stock
30 g English butter (or any type of salted butter)
2 onions
75 g carrots
75 g celery
2 lemons
2 bay leaves
salt and pepper (according to taste)
150 ml fresh single cream
handful of chopped chives
lemon wedges (for garnish)
Melt butter in a saucepan
Clean and chop the vegetables and gently saute them in the melted butter
Stir fry for about 5 minutes
Add the chicken stock and heat up to a boiling point
Press out the lemons and add the juice to the boiling stock
Zest the lemon peel and add this to the stock as well
Add bay leaves
Let the soup simmer on a low flame for about 30 mintes, until the vegetables are tender and the flavours have blended
Remove the bay leaves
Blend the soup using a hand blender
Pour the cream into a bowl and add a few spoons of warm soup
Stir the mixture, add this to the soup and blend again
Reheat the soup on a low flame if necessary, but make sure the soup does not boil!
Serve the soup bowls whiile adding the lemon wedges and freshly chopped chives