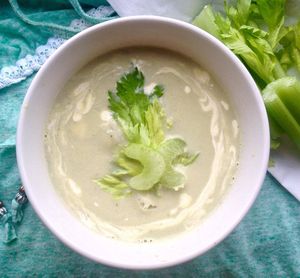 Celery and soup have always been a golden combination. I almost cannot imagine one without automatically thinking of the other. Vegetable or chicken soup simply won't be the same without its celery. A clear broth with just celery is the best way to make a simple soup without spending too much time, effort and money. Additionally celery is a very healthy vegetable. As it is full of water and fibres, and therefore considered the thing to eat when you are on a diet. It increases your metabolism and gives you a fully satite feeling. But if you are not on a diet (because let's be honest: life is too short to always be on one) and looking for something a bit more rich and nutritious than that, why not try this classical beauty!
Old fashioned soups are the best! And cream of celery soup is definitely one of my favourites! It is fancy enough to serve at a garden party, but simple enough for a busy student who does not have much time or money for fancy food. Cream of celery soup could be eaten all year long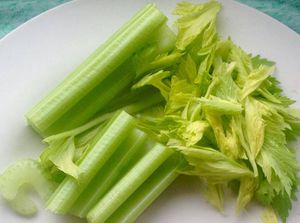 Ingredients for 5 servings
1 litre of vegetable or chicken stock
500 grams of celery
1 brown onion
1 clove of garlic
1 tablespoon of vegetable oil
150 ml of double cream
salt and pepper, according to taste
a pinch of nutmeg
Heat up the oil in a saucepan pan
Dice the onion and garlic and saute until tender
Remove the leaves from the celery and keep them apart
Wash and chop the stalks and add to the onion, cook for about 5 minutes while stirring constantly
Add the stock and heat up to a boiling point
Simmer for about 20 minutes, until the celery is soft enough to blend
Take the pan of the heat and puree the soup with a blender until smooth
Season well with the salt, pepper and nutmeg
Pour the double cream into a bowl and add a few spoons of warm soup to it
Stir the cream mixture until smooth and add to the soup
Blend the soup again
Reheat the soup if necessary, but make sure it does not boil
Serve the soup in bowls and garnish with the celery leaves
Tip: For a refreshing, summery variation to this classical recipe: try adding some mint leaves!