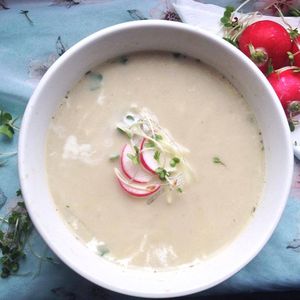 When I say 'radishes', you will probably automatically think about salads and other cold dishes that have radishes in them. And I will not blame you, because radishes are usually eaten cold. Their refreshing mild taste and their crunchy, juicy texture make them perfect salad vegetables. Similar to cucumber and watercress, you would not associate them with warm food and especially not with soup. Soups are too often seen as winter food, which really is a pity! For traditional salad vegetables can taste absolutely lovely in warm soups and give it a lovely, summery flavour (even though I made this one on a rainy afternoon and merely pretended it was sunny), which adds some very interesting variety to your spring and summer dishes. I really like to experiment with seasonal vegetables, because they always represent your mood in a certain time of the year. So what could have been more perfect for the end of May than radishes! Radish soup had been in my planning for a while, because I have seen some pictures pop up on my Pinterest timeline and I fell in love with its beautiful rosy pink colour. Unfortunately my soup did not come out as pink as I wanted, but I think there is an easy way to correct this. For example I used a regular brown onion, but a red onion would increase the colour and its sharpness will certainly bring out the sweet flavour of the radishes.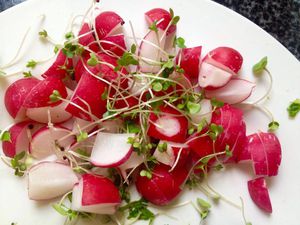 Ingredients for 5 servings
1.5 litres of vegetable or chicken stock
30 grams of salted (English) butter
400 grams of radishes
one large red onion
one medium sized potato
150 ml of creme fraiche
a handfull of salad cress (for garnish)
some salt and pepper (according to taste)
Melt the butter in a saucepan
Peel and dice the red onion and add it to the melted butter
Saute until tender
Wash the radishes and cut them in fine slices and add to the onion
Stir fry for about 5 minutes until tender
Wash and peel the potato and cut it in cubes
Add the stock and the potato boil for about 20 minutes until the potato is soft enough to puree
Turn off the heat and puree the soup with a (hand) blender
Put the creme fraiche in a bowl and add a few spoons of warm soup
Mix well and add the mixture back to the soup
Blend the soup again
If necessary, reheat the soup before serving, but make sure the soup does not boil.
Serve the soup in bowls and garnish with the cress
Enjoy your soup!