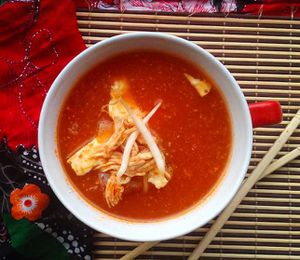 First of all my apologies for not having uploaded any posts lately. I have been awfully busy with work, moving to and settling in to my new place in London and to be very honest the weather has been simply too lovely to stay indoors for blogging and cooking. Today however is rainy and I am feeling a little under the weather, so I decided to stay in and pick up blogging again.
I was craving tomato soup, but since there are already some lovely tomato soup recipes on this blog - and I had some bean sprouts and chicken in my cupboard I needed to use - I decided to choose this interesting variation. It's been a favourite in my family and I have requested my mum's old recipe for this entry. We called it 'Chinese' tomato soup, but since I honestly have no idea whether this is an actual Chinese recipe, I decided to name it Oriental tomato soup instead, in which Oriental merely refers to the style of the soup rather than its origin (because it might be a Western invention). But what's in a name? Would a soup by any other name not taste as sweet? And that's exactly what this soup tastes like...
Sweet and indulgent, but with a little bite!
​Ingredients for 8 servings
1.5 litres of water
a medium sized chicken breast
3 chicken stock cubes
a teaspoon of ground ginger
salt and pepper (according to taste)
salt and freshly ground black pepper (according to taste)
6 tomatoes
1 leek
a handfull of beansprouts
3 eggs
a carton of passata
a table spoon of soy sauce
a teaspoon of red pepper paste or tobasco
a tablespoon honey (or sugar)
Fill a large saucepan pan with the water and add the chicken breast, stock cubes and ginger and heat up to a boiling point.
Boil the ingredients for about 15 minutes.
Remove the chicken breast and shred the meat using 2 forks. Set aside.
Cut the tomatoes into small cubes and add to the boiling stock
Add the passata, red pepper paste, soy sauce and honey
Beat one of the eggs and add it to the soup. Stir well.
Season with the salt and pepper and taste. If neccessary add some more of your preferred ingredient.
Wash and chop the leek and add it to the soup
In the meantime use the remaining 2 eggs to make an omelette
Cut the omelette in small strips
Turn down the flame and serve the soup in bowls
Garnish with the omlette strips, shredded chicken and beansprouts
Enjoy your soup!