Parsnip Soup with Cranberry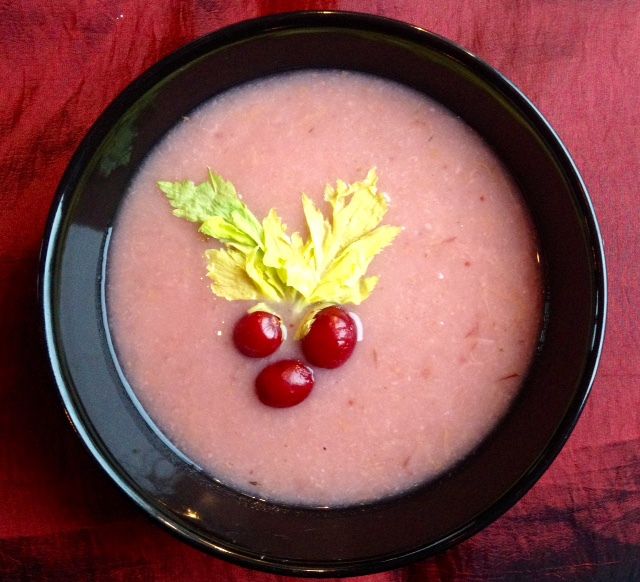 It's been a while since I posted my last blog post, due to a serious lack of inspiration. Most of the soups I had made this autumn season were copies of my already really good classic recipes. However, this December, as I was in the supermarket, getting ready to buy all the ingredients for my super festive Chestnut Cranberry Soup from 2 years ago, I felt stuck as I could not find chestnuts in the supermarket!
Hence I had to come up with another ingredient. As happened almost a kilo of parsnips in my fridge, I decided to pick this ingredient instead, and so a brand new Souperwoman Christmas Special was born!
This soup is very warming, and very Christmassy as it uses very traditional Christmassy ingredients such as the unmissable Cranberry, but also the most Christmassy vegetable of all -the parsnip - especially in Britain, parsnips are unmissable to every Christmas dinner!
So the soup turned out to be an absolute success! This super festive vegetable soup is vegan, allergy friendly and super easy to make! A festive starter to your Christmas dinner in no time!
Ingredients for 8 servings
500 grams of parsnips
250 grams celery
250 grams of frozen cranberries
2 litres of vegetable stock
1 teaspoon of cinnamon
1 teaspoon of clove
1 teaspoon of nutmeg
1 teaspoon of ginger
a teaspoon of sugar or honey (to take away the sour edge of the berries)
salt and pepper, according to taste
Make the soup:
Remove the leaves from the celery and chop up the stalks
Peel the parsnips and chop them
Add the chopped parsnips and celery together with cranberries (keep a couple apart for garnish) and the stock in a soup pot
season with the spices and boil for about 10 minutes, until the vegetables are soft
Puree the vegetables
Serve the soup in bowls and decorate with the celery leaves and cranberries (like on the picture)